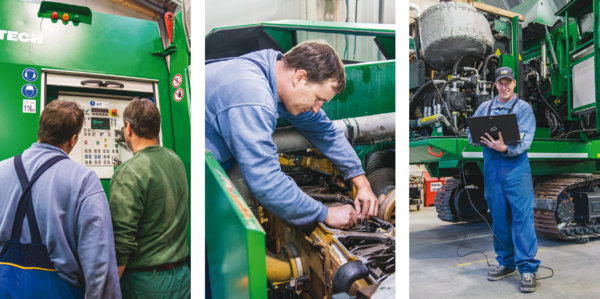 Komptech Certified used
How the best new machines become the best used machines.
Purchasers of used machines have to be able to depend on the quality and reliability of those machines. Downtime or high repair costs can quickly eat up the supposed price savings. To meet high expectations on availability, Komptech refurbishes used machines in a certified process.Each step, from initial inspection to refurbishment to final check, follows strict specifications.
The "Komptech certified used" seal documents this quality promise. Younger than six years, inspected to the criteria of a new machine and with a six month or 500 operating hour warrantly, a "certified used" machine delivers the reliability and economy Komptech is renowned for.
Advantages
Machines younger than six years and with less than 6000 operating hours
Inspection, refurbishment and quality control to Komptech standards
Warranty for six months/500 operating hours